Women's squash picks up three wins at home
---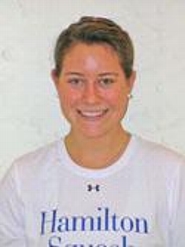 Hamilton College won all three matches this weekend -- two on Dec. 5 over the University of Rochester and the University of Toronto -- and one more against Toronto on Dec. 6 at the Little Squash Center.
The Continentals (5-0 overall) -- No. 14 in the most recent College Squash Association team rankings –- opened the weekend with a 7-2 win over Toronto and then breezed to a 7-0 win over Rochester on Saturday. Hamilton wrapped up its weekend defeating Toronto 7-2 again on Sunday.
Kelly Whipple '10 defeated her Toronto opponents 3-0 on both Saturday and Sunday at the first position. Claire Corroon '13, Jane Hannon '11 and Annabel Prouty '13 defeated all three of their opponents in three straight games.
Amanda Thorman '13 played at the second position in both matches against Toronto. Thorman defeated her opponent in three games on Saturday and in four on Sunday. Alyssa Bawden '12 played at the third position against Toronto and came away with a 3-2 win on Saturday and a 3-1 win on Sunday.
At the fourth position, Courtney Kollmer '10 defeated Toronto 3-1 on Saturday and 3-2 on Sunday. Kollmer played at the first position against Rochester and swept her opponent in three straight games.
Anne Edelstein '11 and Nina Platt '10 each came out of the weekend with two wins and one loss. Both players split their matches against Toronto and defeated their Rochester opponents in three straight games. Alexis Lee '13 swept her opponent from Rochester in three straight games.

Hamilton will travel to Washington, D.C., for a training trip in January during the winter break.