Women's squash picks up win at Franklin & Marshall
---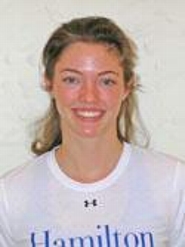 Hamilton College defeated Franklin & Marshall College, 6-3, at Franklin & Marshall's Mayser Center in the last match of Hamilton's Washington, D.C., training trip on Jan. 14.
Franklin & Marshall (2-4 overall) was No. 21 in the most recent College Squash Association rankings, and Hamilton (7-0) was 14th.
Amanda Thorman '13, Alyssa Bawden '12 and Alexis Lee '13 swept their opponents in three straight games at the second, third and eighth positions, respectively. Claire Corroon '13 picked up another win for the Continentals -- her seventh of the season -- at the fourth position. Corroon dropped her first game 11-7, but came back to win the next three by scores of 11-3, 14-12 and 11-7.
Courtney Kollmer '10 won at the fifth position in three straight games for her seventh win of the season. Kollmer allowed her opponent only three points in the entire match (11-2, 11-1, 11-0). At the ninth position, Annabel Prouty '13 won in four games by scores of 8-11, 11-9, 12-10 and 11-6. It was Prouty's seventh win this season.
The Continentals return to action on Saturday, Jan. 16, when they travel to Williams College for a match at 4 p.m.