Women's squash places sixth at NESCAC Championships
---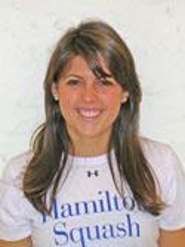 Sixth-seeded Hamilton College split four matches and finished in sixth place in the New England Small College Athletic Conference Championships, which were held at Trinity College in Hartford, Conn., from Feb. 5 to Feb. 7.
Hamilton finished sixth in this event for the third straight year. The Continentals (13-6 overall) opened the weekend with a 9-0 win against No. 11 seed Connecticut College in the first round on Friday. On Saturday, Hamilton fell 8-1 to No. 3 seed Bates College in the quarterfinals, and defeated seventh seed Colby College, 6-3. On Sunday, the Continentals lost 6-3 to No. 5 seed Amherst College.
Against Connecticut College, Kelly Whipple '10, Amanda Thorman '13, Claire Corroon '13, Courtney Kollmer '10, Kristen Rubin '10, Alexis Lee '13 and Nina Platt '10 all swept their opponents in three straight games at the first, second, fourth, fifth, sixth, eighth and ninth positions, respectively. At the third position, Alyssa Bawden '12 defeated her opponent in four games (11-1, 11-8, 12-14, 11-4). Anne Edelstein '11 also earned a 3-1 win by scores of 11-3, 9-11, 11-7 and 11-5.
In the match against Bates, Platt picked up a 3-0 win for Hamilton at the ninth position. Also on Saturday against Colby, Rubin, Lee and Platt earned 3-0 wins over their opponents at the sixth, eighth and ninth positions, respectively. At the second position, Thorman earned a close five-game win (11-7, 12-10, 10-12, 8-11, 11-3). Kollmer also earned a five-game win at the fifth position. After dropping two close games (12-10, 11-8), she rallied to win the last three (11-2, 11-8, 11-6). Edelstein earned a 3-1 win at the seventh position.
On Sunday against Amherst, Thorman improved her season record to 13-4 with a 3-0 win at the second position. Bawden played at the third position and earned a four-game victory -- her 10th win of the season -- by scores of 11-2, 7-11, 11-8 and 11-8. Platt swept her opponent at the ninth position to go 4-0 on the weekend.
The Continentals return to action on Saturday, Feb. 13, when they host William Smith College at the Little Squash Center.