Women's squash places sixth at NESCAC championship
---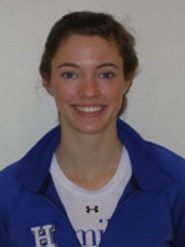 Hamilton College finished in sixth place at the 2011 New England Small College Athletic Conference championship, which was held at Trinity College's Kellner Squash Center from Feb. 4 to Feb. 6.

Hamilton (9-8 overall) was the sixth seed in the 11-team event. The Continentals cruised to a 9-0 win against No. 11 seed Connecticut College on Friday night and advanced to play in the quarterfinals for the fifth straight year.

Hamilton lost 9-0 against No. 3 Middlebury College on Saturday morning. The Continentals rebounded with a 7-2 victory against No. 7 Wesleyan University in the consolation bracket later that afternoon. Hamilton dropped a 9-0 decision to No. 4 Amherst College in the 5th/6th place match on Sunday morning.

Kelsey Bogle '14 and Anne Edelstein '11 won both their matches in three straight games at the fifth and ninth positions, respectively. Danielle Forsyth '11 (fourth position) and Hannah Coffin '14 (seventh) defeated their Wesleyan opponents in four games after easy 3-0 victories against Conn. College.

Amanda Thorman '13 (first), Claire Corroon '13 (second) and Alexis Lee '13 (sixth) clinched the match for the Continentals against Wesleyan with tough, five-game wins. All three had a much easier time against the Camels on Friday. Leila Clifford-Ong '11 (third) and Hillary Kolodner '14 (eighth) picked up three-game wins against Conn. College.

Hamilton hosts George Washington University and the University of Toronto on Saturday, Feb. 12, and Northeastern University on Sunday, Feb. 13.