Women's squash posts three wins in Massachusetts
---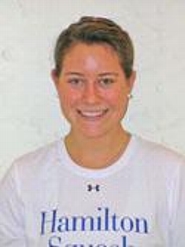 Hamilton College earned wins over Connecticut College, Wesleyan University and Colby College, and lost twice in matches played at Amherst College and Mount Holyoke College on Jan. 23 and 24.
The Continentals -- No. 14 in the most recent College Squash Association rankings -- improved their record to 10-3 overall. On Saturday, Hamilton fell 9-0 at No. 11 Mount Holyoke, and then defeated No. 27 Conn. College, 9-0, in a match played at Amherst. On Sunday, the Continentals fell 8-1 at No. 15 Amherst, picked up a 7-2 win over No. 22 Wesleyan and defeated No. 20 Colby 7-2.
In Sunday's win over Wesleyan, Kelly Whipple '10, Amanda Thorman '13, Claire Corroon '13, Nina Platt '10 and Alexis Lee '13 all swept their opponents in three straight games at the first, second, fourth, seventh and eighth positions, respectively. At the fifth position, Courtney Kollmer '10 defeated her opponent in four games (12-10, 11-9, 7-11, 11-7). At the ninth position, Annabel Prouty '13 also won her match in four games (11-9, 11-3, 5-11, 12-10).
In Sunday's win over Colby, six Continentals triumphed in straight sets. Whipple (11-6, 11-4, 11-8), Thorman (11-5, 12-10, 12-10), Kollmer (11-4, 12-10, 11-2), Anne Edelstein '11 (11-8, 11-2, 11-8), Platt (11-5, 11-8, 14-12) and Lee (11-5, 11-4, 11-8) all won 3-0. At the ninth position, Prouty earned a hard-fought 3-2 win (11-7, 11-4, 8-11, 7-11, 11-7).
Against Amherst on Sunday, Corroon defeated her opponent in three games at the fourth position by scores of 11-8, 11-8 and 11-7.
On Saturday in the win over Conn. College, all the Hamilton players won their matches in three straight games, including Alyssa Bawden '12 at the third position. Against Mount Holyoke, Edelstein played a tough five-game match at the sixth position. She fell in her opening game, 11-4, and then rallied to win the next two, 11-8 and 12-10. However, she lost the final two games, 11-6 and 11-8.
The Continentals return to action on Saturday, Jan. 30, when they travel to Canton, N.Y., to play St. Lawrence University.