Women's squash wins at home
---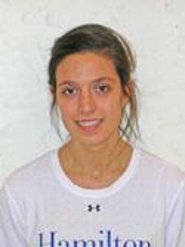 Hamilton College won one of three matches at Hamilton's Little Squash Center on Saturday and Sunday, Jan. 29 and 30.

The Continentals (7-6 overall) started the weekend with a 7-2 loss against Mount Holyoke College. Hamilton is ranked 17th by the College Squash Association, and Mount Holyoke is 15th. The Continentals cruised to a 7-0 win against No. 35 Drexel University early Saturday evening before they fell 9-0 against No. 9 Williams College on Sunday afternoon.

Hillary Kolodner '14 and Anne Edelstein '11 defeated their Mount Holyoke opponents in three straight games at the eighth and ninth positions, respectively. Edelstein got a rare start at the first position against Drexel, and she tied a team high with her eighth victory.

Laura Russell '14 also picked up her eighth win with a triumph at the second position. Other winners included: Annabel Prouty '13 (third position), Mary Lancaster '12 (fourth), Alyssa Kasanoff '13 (fifth), Jane Hannon '11 (sixth) and Virginia Walsh '14 (seventh). Hannon improved her career record to 35-14.

Hamilton will compete in the NESCAC championships, which start on Friday, Feb. 4, and conclude on Sunday, Feb. 6.