Women's squash wins three matches in weekend round robin
---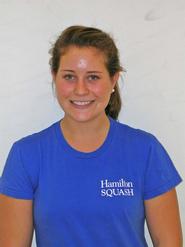 Hamilton College posted a 3-1 record in its own three-day round robin held at the Little Squash Center from Dec. 5 to Dec. 7.
The Continentals (5-2 overall) recorded shutout victories against St. Lawrence University, Colgate University and Franklin & Marshall College, but fell 5-4 to Mount Holyoke College.
The Continentals opened their weekend with a 9-0 win against St. Lawrence. Kelly Whipple '10 breezed to a 9-0, 9-1, 9-0 win at the first position. Krissy Rubin '10 posted a 9-1, 9-0, 9-1 win at the second position and Alyssa Bawden '12 won at third position, 9-1, 9-0, 9-0. Leila Clifford '11, Madeleine Sullivan '09, Danielle Forsyth '11, Anne Edelstein '11, Mary Lancaster '12 and Jane Hannon '11 also swept their opponents at the fifth through ninth positions.
Hamilton lost a hard-fought battle to Mount Holyoke on Saturday. Hamilton's four wins came from Forsyth (9-10, 9-5, 9-1, 9-2), Edelstein (9-3, 9-5, 9-7), Lancaster (9-4, 9-2, 9-2) and Hannon (9-7, 0-9, 9-4, 9-4) at the sixth through ninth positions.
The hosts regrouped for a 9-0 win against Colgate later in the day. Rubin blanked her opponent, 9-0, 9-0, 9-0 at the second position, and Edelstein duplicated the results at the seventh position. No Continental lost a game in the match.
Hamilton breezed to another 9-0 win on Sunday against Franklin & Marshall. Whipple, Rubin, Clifford, Sullivan, Forsyth, Edelstein, Lancaster and Hannon all recorded 3-0 wins.
Women's squash does not compete again until Jan. 16 when the team will travel to Middletown, Conn., to face Wesleyan University.