Women's swimmer captures 3rd all-America award this week
---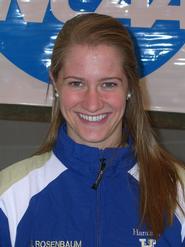 Hamilton College's Maggie Rosenbaum '14 finished seventh in the championship final of the 200-yard backstroke at the 2013 NCAA Division III Swimming and Diving Championships at the Conroe Natatorium in Shenandoah, Texas, on March 23.

Live results

Rosenbaum secured the sixth all-America award of her Hamilton career and her third this week. All eight swimmers that compete in the championship final earn all-America honors. She took fourth place in the 100 butterfly on Thursday and second place in the 100 back on Friday.

Rosenbaum recorded a time of 2:00.58 in the final on Saturday night. Kirsten Nitz of Wheaton (Ill.) College finished first with a time of 1:57.30. Rosenbaum was second to Nitz after the first 50 yards in 27.80 seconds. She slipped to fourth place after 100 yards with a time of 57.81 seconds, and was eighth with a time of 1:29.35 with 50 yards to go. Her time in the morning's preliminary heats was 2:00.76.

Rosenbaum generated 44 team points, which was good enough to land the Continentals in 18th place in the NCAA championship team standings. A total of 54 teams scored at least one point at the national meet.