Women's swimmer captures second NCAA title
---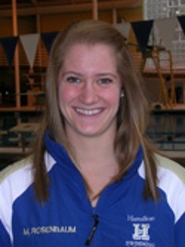 Hamilton College's Maggie Rosenbaum '14 defended her national title in the 100-yard backstroke on the third day of the NCAA Division III men's and women's swimming & diving championships at the Indiana University-Purdue University Indianapolis Natatorium on March 23.

Click here for a page on NCAA.com that has full replays of the finals from each day of the championships. Click here and here to see a pair of interviews with Rosenbaum.

Rosenbaum's winning time of 55.30 seconds was .12 seconds faster than runner-up Anna Dobben of Emory University. Rosenbaum qualified for the championship final with a time of 54.90 seconds in the morning's preliminary heats. Her prelim time was the fastest in Division III this season.

Rosenbaum earned her second national title and second All-America award. Anyone that qualifies for and finishes the championship final earns All-America status. She became the first Hamilton women's swimmer to claim an NCAA championship in 2011 when she won the 100 back.

In the evening's finals, Rosenbaum was in third place after the first 50 yards with a time of 26.69 seconds. She finished the last 50 yards in 28.61 seconds to clinch the championship.

Rosenbaum holds three program records in backstroke events and two more in the individual medley. In February, she was selected the NESCAC Swimmer of the Meet after winning the 50, 100 and 200 back.

Hamilton moved from 25th to 16th place in the team standings thanks to the 20 points Rosenbaum earned for her win in the 100 back. The Continentals have a total of 33 team points.