Swimmer competes in NCAA championships
---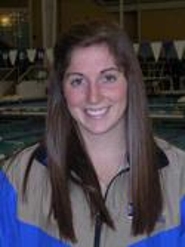 Hamilton College's Megan Gibbons '12 finished in eighth place in the consolation final of the 50-yard freestyle in the 2010 NCAA Division III women's swimming & diving championships held at the University of Minnesota's Aquatic Center in Minneapolis on March 17.
Gibbons finished 16th overall in the event with a time of 24.67 seconds. Her performance earned her an honorable mention All-America award.
Gibbons' time of 23.92 seconds earlier that day in the preliminary heats broke her own school record of 23.97 seconds, which she set at the New England Small College Athletic Conference championships on Feb. 21.