Women's swimmer earns second honorable mention All-America award
---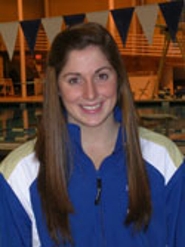 Hamilton College's Megan Gibbons '12 captured an honorable mention All-America award at the 2011 NCAA Division III men's and women's swimming and diving championships at the University of Tennessee's Allan Jones Aquatic Center in Knoxville, Tenn., on March 23.

Gibbons finished fifth in the consolation final (13th overall) in the 50-yard freestyle with a time of 23.83 seconds. Everyone that competes in the consolation final earns honorable mention All-America status. Her time of 23.74 seconds in the morning preliminary heats tied her own team record.

Gibbons was an honorable mention All-American in the same event at the 2010 NCAA championships. She also helped Hamilton set a program record in the 200 medley relay.

The Continentals' time of 1:46.45 in the prelims left them tied with Carnegie Mellon University for the eighth and final spot in the consolation finals (16th overall). The two schools competed against each other in a swimoff to determine who would swim in the evening finals.

Hamilton eclipsed its old record of 1:46.15 with a time of 1:45.84, but was edged by Carnegie Mellon. Gibbons, Maggie Rosenbaum '14, Liz Bucceri '11 and Joan Burton '13 had also established the old record on Feb. 26. Rosenbaum broke her own team record in the 50 backstroke with a time of 26.13 seconds leading off the relay. Her previous record was 26.14 seconds.

The foursome of Gibbons, Rosenbaum, Bucceri and Burton will compete in the 200 free relay and 400 medley relay at the championships on Thursday, March 24.