Women's swimmer honored by NESCAC
---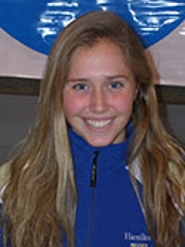 Hamilton College's McKenna Kelly '15 (Westwood, Mass./Dana Hall School) was selected the NESCAC women's swimming and diving Performer of the Week on Jan. 28.

Kelly was a three-time individual winner in a 172-114 dual meet victory against Union College. She was first in the 1,000-yard freestyle (10:45.93), 200 free (1:57.81) and 500 free (5:16.46). Kelly's performance in the 200 is tied for the seventh-fastest time in program history. Kelly was also part of the winning 400 free relay, which posted a time of 3:45.80.

Hamilton wraps up the regular season with dual meets at Skidmore College on Friday, Feb. 1, and at Rensselaer on Saturday, Feb. 2.