Women's swimmer raises money for cancer research
---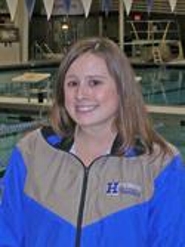 Hamilton College women's swimmer Kerry Coughlin '11 (Carmel, N.Y./John F. Kennedy Catholic HS) participated in a Swim Across America event that raised money for cancer research on Long Island Sound in Stamford, Conn., on June 26.
For the second consecutive year, Coughlin organized the swim in memory of friend and former high school teammate Maureen McAvoy, who was 19 years old when she passed away due to a brain tumor. Coughlin did the mile and a half swim as one of eight members on Team Maureen.
This year the group raised more than $5,000 for local cancer research and patient care organizations. The group has raised just under $10,000 for the past two years. Coughlin has participated in several open-water swimming events, and she hopes to continue to make this an annual event.