Women's swimmers 19th after first day at NCAA championships
---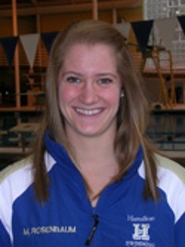 Maggie Rosenbaum '14 broke a program record and earned an honorable mention All-America award for Hamilton College on the first day of the NCAA Division III men's and women's swimming & diving championships at the Indiana University-Purdue University Indianapolis Natatorium on March 21.

Rosenbaum finished third in the consolation final (11th overall) of the 200-yard individual medley with a time of 2:05.83. Anyone that qualifies for and finishes the conso final earns honorable mention All-America status. It's the third honorable mention award for Rosenbaum. The previous team record of 2:07.87 had been held by Nicole Knapp '05 since 2003.

Megan Gibbons '12 finished 19th of 39 swimmers in the 500 freestyle with another program-record time of 5:02.39. The old team record of 5:05.01 by Liz Sichol '96 had stood for 17 years.

Hamilton's 200 medley relay finished 17th with a time of 1:47.44, and missed competing in the consolation finals by .09 seconds. Rosenbaum, Gabrielle Goione '12, Joanie Burton '13 and Gibbons were the relay members.

The Continentals are tied for 19th place in the team standings thanks to Rosenbaum's six points for the 200 individual medley performance.