Women's swimmers set two records at NCAA championships
---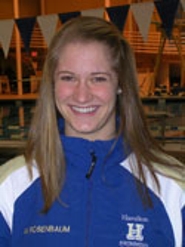 Hamilton College swimmers set two more program records at the 2011 NCAA Division III men's and women's swimming and diving championships at the University of Tennessee's Allan Jones Aquatic Center in Knoxville, Tenn., on March 24.

Maggie Rosenbaum '14, Liz Bucceri '11, Joan Burton '13 and Megan Gibbons '12 finished second in the consolation finals and 10th overall in the 400-yard medley relay. Everyone that competes and finishes in the conso finals earns honorable mention All-America status. Gibbons received her second honorable mention award of these championships and her third overall at Hamilton.

The foursome recorded a time of 3:53.52 in the morning's preliminary heats to qualify for the conso finals in the evening. Rosenbaum led off the relay in the 100 backstroke and broke her own team record of 55.70 seconds with a time of 55.22 seconds.

In the consolation finals, the Continentals shattered the program record of 3:53.45 they set at the 2011 New England Small College Athletic Conference championship, with a time of 3:51.26. Rosenbaum again lowered her team record in the 100 back with a time of 54.80 seconds.

Hamilton is in 22nd place in the team standings with 18 points. On Friday, Rosenbaum competes in the 100 back, and the team competes in the 800 freestyle relay. Rosenbaum is seeded first in Division III in the 100 back.