Women's swimming and diving falls at Amherst
---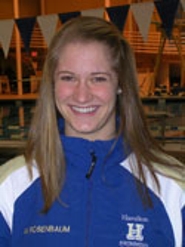 Maggie Rosenbaum '14 finished first in two backstroke events in Hamilton College's dual meet loss against nationally ranked No. 8 Amherst College at Amherst's Pratt Pool on Jan. 22.

Rosenbaum won the 50-yard back by more than a second with a time of 27.71 seconds, and she captured the 100 back in 59.26 seconds. She was runner-up in the 50 butterfly with a time of 27.05 seconds.

Megan Gibbons '12 earned a win in the 50 freestyle with a time of 24.76 seconds, and was second in the 100 free in 53.95 seconds. Joan Burton '13 took second place in the 100 fly with a time of 1:02.75. Diane Paverman '13 was a close second in 1-meter springboard diving. Paverman finished just four points behind the event winner with a total of 237.68.

Amherst won by the score of 215-85. Hamilton hosts Union College for Senior Day on Saturday, Jan. 29.