Women's swimming & diving 6th after day two at NESCACs
---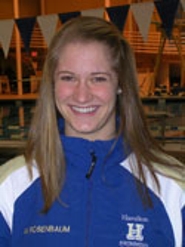 Hamilton College's Maggie Rosenbaum '14 was part of three team records and qualified for the NCAA Division III championships on the second day of the 2011 New England Small College Athletic Conference women's swimming and diving championship at Williams College's Muir-Samuelson Pool on Feb. 19.

Rosenbaum destroyed her own team record and broke a 17-year-old pool mark in the 100-yard backstroke as she finished first with a time of 55.70 seconds. The performance automatically qualifies her to compete in the national meet in March.

Rosenbaum highlighted in NESCAC championship article on collegeswimming.com

Rosenbaum was also part of program records in the 200 medley relay and 800 freestyle relay. Hamilton finished fourth in the medley relay with a time of 1:48.14, and fifth in the free relay with a time of 7:46.06. Both times made provisional cuts for the NCAA championships. Liz Bucceri '11, Joanie Burton '13 and Allie Reeder '14 joined Rosenbaum on the medley relay. Bucceri, Burton and Megan Gibbons '12 rounded out the free relay.

Gibbons finished sixth in the finals of the 200 free. Her time of 1:53.55 in the morning prelims broke her own team record, and made a provisional cut for the national meet.

Burton finished second in the 100 butterfly consolation finals (10th overall) with a time of 59.56 seconds. Gabrielle Goione '12 was fifth in the conso finals of the same event. Goione recorded a time of 59.86 seconds in the prelims. Bucceri ended up fifth in the 400 individual medley conso finals. She recorded a time of 4:42.44 in prelims.

The Continentals are in sixth place out of 11 teams with 498 points. Williams leads the pack with 1,366 points. The meet concludes with Sunday's finals, which begin at 5:30 p.m.