Women's swimming & diving 8th at NESCAC championship
---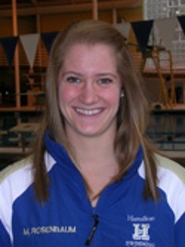 Hamilton College's Maggie Rosenbaum '14 set conference, championship meet, pool and team records in the 50-yard backstroke on the first day of the 2012 NESCAC championship at Wesleyan University's Natatorium on Feb. 17.

Results

Hamilton is in eighth place out of 11 teams with 223 team points after the first day of this three-day event. Williams College leads the pack with 652 points.

Rosenbaum finished first in the 50 back for the second year in a row. Her time of 26.02 seconds was the fastest by any NESCAC swimmer in the conference's history, and eclipsed her own program record of 26.13 seconds set last year.

Megan Gibbons '12 captured third place in the 50 freestyle with a time of 23.85 seconds. Gibbons has finished in the top three in the 50 free three straight years.

Joanie Burton '13 ended up seventh in the 50 butterfly with a time of 26.38 seconds. Burton's time eclipsed the former program-record mark of 26.59 seconds held by Whitney Rosenbaum '10 since 2009.

McKenna Kelly '15 was sixth in the preconsolation finals of the 500 free with a time of 5:12.48. Kelly posted a time of 5:11.37 in the morning's preliminary heats.

Diane Paverman '13 finished fourth in the 1-meter springboard diving event. Paverman racked up 402.61 points, which broke her own team record of 400.30 points set two years ago.

The Continentals took fourth place in the 400 medley relay with a time of 3:54.93. Rosenbaum, Gabrielle Goione '12, Burton and Gibbons recorded a slightly faster time of 3:54.91 in the prelims.