Women's swimming & diving 9th after day two at NESCAC meet
---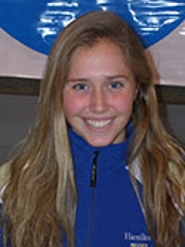 Three Hamilton College women's swimming and diving records were set on the second day of the 2013 NESCAC Championship at Bowdoin College's Leroy Greason Pool on Feb. 16.

McKenna Kelly '15 broke a team record that had stood for 18 years. Kelly finished sixth in the 1,000-yard freestyle with a time of 10:27.69. Liz Sichol '96 had held the old mark of 10:31.15 since 1995.

For the second straight day, Maggie Rosenbaum '14 eclipsed her own program record in the 100 backstroke. Rosenbaum won the event with a championship meet and pool-record time of 54.70 seconds. She has qualified for the NCAA Division III championships in March in the 100 back, an event in which she owns two national titles.

Rosenbaum also smashed her older sister's team record in the 100 butterfly during an exhibition time trial for the event. Her time of 55.23 seconds was nearly three seconds faster than the 58.08 clocking Whitney Rosenbaum '10 recorded in 2009. Maggie's time met an automatic qualifying standard for the NCAA meet.

Joanie Burton '13 finished eighth in the championship final of the 100 fly. Burton posted a time of 58.26 seconds in the morning's preliminary heats.

Lauren Halladay '16 captured first place in the preconsolation final (17th overall) of the 100 breaststroke with a time of 1:07.73. Halladay's time was good for third place on Hamilton's top times list.

Sarah Dempsey '14 ended up in sixth place in the preconsolation final (22nd overall) of the 400 individual medley with a time of 4:45.58. Dempsey landed in 10th place on the team's top times list.

The 200 medley relay of Rosenbaum, Halladay, Burton and Sarah Hooper '16 finished fifth in 1:46.74. The time met a provisional qualifying standard for the NCAA meet.

The Continentals are in ninth place with 434 team points. Amherst College leads the 11-team field with 1,355.5 points. Sunday's prelims begin at 10 a.m. and the finals are scheduled to start at 5:30 p.m.