Women's swimming & diving 9th at NESCAC meet
---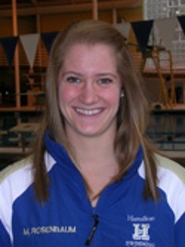 Maggie Rosenbaum '14 set her second championship meet record in as many days on the second day of the 2012 NESCAC championship at Wesleyan University's Natatorium on Feb. 18.

Results

Hamilton fell to ninth place out of 11 teams with 441 team points after the second day of this three-day event. Williams College leads the pack with 1,255 points.

Rosenbaum finished first in the 100-yard backstroke for the second year in a row with a time of 55.23 seconds. Her performance met an automatic cut for next month's NCAA Division III championships.

Rosenbaum also broke her own team record in the 50 back as she led off the 200 medley relay with a time of 25.92 seconds. Rosenbaum, Gabrielle Goione '12, Joanie Burton '13 and Megan Gibbons '12 made an NCAA provisional cut and finished fifth with a time of 1:46.84.

Gibbons destroyed her own program record and made a provisional cut in the 200 freestyle with a time of 1:51.77 in the preliminary heats. She finished fourth in the finals with a time of 1:52.67.

McKenna Kelly '15 finished sixth in the 1,000 free with a time of 10:31.38. Kelly came agonizingly close to breaking the team record of 10:31.15 set in 1995 by Liz Sichol '96.

Joanie Burton '13 took fifth place in the consolation final of the 100 butterfly in 59.68 seconds. Burton's time in the preliminary heats was even better at 58.98 seconds.

Allie Reeder '14 was eighth in the preconsolation finals of the 200 free with a time of 1:59.83. Reeder went faster in the preliminary heats in 1:58.90.

Rosenbaum, Reeder, Kelly and Gibbons finished sixth and nearly knocked off the program record in the 800 free relay with a time of 7:46.96. The record -- set last year -- is 7:46.06.