Women's swimming & diving captures Cardinal Invitational title
---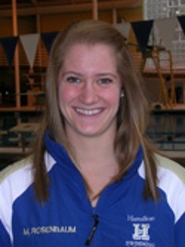 Maggie Rosenbaum '14 finished first in four events and led Hamilton College to the team title at Wesleyan University's 2011 Cardinal Invitational, which was held at the Wesleyan Natatorium on Dec. 3 and 4.

Results

Hamilton edged the hosts with 951 points to 944.5. Worcester Polytechnic Institute was third with 853 points, Trinity College ended up fourth with 708.5 and Clark University finished fifth with 619.

Rosenbaum -- a 2011 All-American and national champion in the 100-yard backstroke -- won all three backstroke events and the 200 individual medley. Her time in the 50 back was 27.77 seconds, and she broke her own meet records in the 100 (58.84) and the 200 (2:06.55). Her 200 IM time was 2:11.62, which was more than five seconds faster than the runner-up.

Megan Gibbons '12 captured first place in the 100 and 200 freestyle with times of 53.71 seconds and 1:57.75, respectively. Gibbons took second place in the 1,650 free with a time of 18:09.70 that beat the previous meet record by seven seconds.

Sarah Larson '15 finished first in the 50 free with a time of 25.68 seconds. McKenna Kelly '15 was runner-up in the 500 free (5:16.98) and the 200 free (2:01.95), and ended up third in the 1,650 free with a time of 18:17.43.

Joanie Burton '13 claimed second place in the 50 butterfly (27.82 seconds) and third place in the 100 fly (1:02.22). Sarah Dempsey '14 was runner-up in the 200 fly with a time of 2:17.82.

In diving, Diane Paverman '13 placed third in both springboard events. Paverman recorded 224.95 points in the 1-meter and 210.45 points in the 3-meter.

The Continentals swept the five relay events and set meet records in the 400 medley and 800 free. Rosenbaum, Gabrielle Goione '12, Burton and Gibbons recorded a time of 4:05.34 in the 400 medley. Rosenbaum, Kelly, Allie Reeder '14 and Gibbons finished the 800 free in 8:00.88.

Larson, Rosenbaum, Reeder and Gibbons kicked off the meet with a winning time of 1:40.99 in the 200 free relay. The same foursome posted a time of 3:41.27 in the 400 free relay. Rosenbaum, Goione, Burton and Gibbons won the 200 medley in 1:52.75.

Hamilton is off until the Key West Invitational in Florida on Saturday, Jan. 7, 2012.