Women's swimming & diving closes regular season with win
---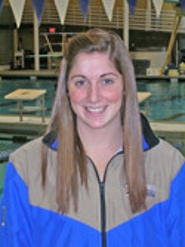 Megan Gibbons '12 finished first in two events to help lead visiting Hamilton College to a dual meet win against Rensselaer at Robison Pool on Feb. 7.
The final score was 131-110. Hamilton competes in the New England Small College Athletic Conference championship at Bowdoin College from Feb. 20 to Feb. 22.
Gibbons easily captured the top spot in the 50-yard freestyle for the second time in as many days with a time of 25.36 seconds. She also placed first in the 100 breaststroke with a time of 1:11.61. Gabrielle Goione '12 was right behind Gibbons in second place (1:11.83).
Kylie Fraser '11 grabbed first place in the 200 backstroke with a time of 2:16.60. Deanna Edwards '09 took first in the 1,000 free in 11:28.68.
In diving, Anna Chelius '11 was first in the 3-meter springboard with 243.15 points and second in the 1-meter with 220.70. Beth Beaury '09 was runner-up to Chelius in the 3-meter board with 215.78 points.
Hamilton capped the meet with a victory in the 400 free relay. Emma McCarthy '10, Jeannie Folan '12, Courtney Neuber '11 and Liz Bucceri '11 recorded a time of 3:55.57.