Women's swimming & diving coasts to dual meet win
---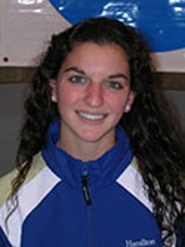 Hamilton College breezed to a 172-114 dual meet win against Union College at Hamilton's Bristol Pool on Jan. 26.

The Continentals (3-5 overall) finished first in nearly all of the 16 individual and relay events. Hamilton travels to Skidmore College for another dual meet on Friday, Feb. 1.

Diane Paverman '13 swept the springboard diving events as she competed in Bristol Pool for the final time. Paverman posted a score of 271.80 points in the 1-meter board and 274.79 points in 3-meter competition.

Joanie Burton '13 captured the top spot in the 100-yard butterfly with a time of 1:00.99. Burton was also part of winning 400 medley and 400 freestyle relays.

Maggie Rosenbaum '14 recorded victories in the 100 backstroke (59.15 seconds), 200 back (2:09.65) and the 200 individual medley (2:13.45). Rosenbaum earned NCAA Division III titles in the 100 back in 2011 and 2012.

McKenna Kelly '15 joined Rosenbaum as a three-time winner at the meet. Kelly was first in the 1,000 free (10:45.93), 200 free (1:57.81) and 500 free (5:16.46). Her 200 time, which was recorded less than 15 minutes after she completed the 1,000 free, was a personal-best performance.

Sarah Hooper '16 raced to victory in the 50 free (25.51 seconds) and the 100 free (55.11 seconds). Lauren Halladay '16 ended up first in the 100 breaststroke with a time of 1:10.76, and in the 200 breast in 2:33.59. Sarah Dempsey '14 was runner-up in the 200 butterfly with a time of 2:16.99.

Rosenbaum, Halladay, Burton and Hooper were the members of the winning 400 medley relay in a time of 4:06.81. Allie Reeder '14, Burton, Kelly and Hooper made up the 400 free relay, which posted a time of 3:45.80.