Women's swimming & diving splits with Amherst and St. Lawrence
---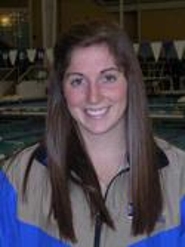 Hamilton College split with Amherst College and St. Lawrence University in a three-team meet held at Hamilton's Bristol Pool on Jan. 23.
The Continentals fell to nationally ranked No. 5 Amherst, 207-85, and defeated St. Lawrence, 187-109.
Megan Gibbons '12 earned a victory for the Continentals in the 50-yard freestyle with a time of 24.74 seconds. Gibbons added a runner-up finish in the 50 breaststroke with a time of 32.72 seconds, and finished second in the 100 breast in 1:10.14.
Whitney Rosenbaum '10 took first place in the 100 butterfly, clocking a time of 1:00.92. Rosenbaum finished third in the 50 fly in 28.32 seconds.
Liz Bucceri '11 took third place in the 200 free with a time of 2:02.38. Kate Rack '11 came in third in the 100 breast, finishing in 1:11.52. Diver Diane Paverman '13 took second place in both the 1- and 3-meter springboard, as she earned 247.03 and 248.70 points, respectively.
The Continentals compete in a dual meet at Union College on Saturday, Jan. 30.