Women's swimming & diving competes in Ithaca quad
---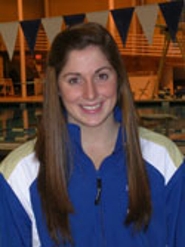 Megan Gibbons '12 and Maggie Rosenbaum '14 combined to finish first in six events for Hamilton College in a quadrangular meet held at Ithaca College's Athletics & Events Center Aquatics Pavilion on Nov. 19.

Hamilton was outpointed by Ithaca, Hartwick College and SUNY Geneseo in head-to-head dual meets. The event was the 2011-12 opener for the Continentals. Click on the link below for a complete set of scores and results.

Full Results

Gibbons set pool records in the 50-, 100- and 200-yard freestyle. Her time in the 50 free was 24.44 seconds. She finished the 100 free in 52.91 seconds, and completed the 200 free in 1:55.61, which was just two seconds off her team record.

Rosenbaum captured the 100 and 200 backstroke, and the 200 individual medley in pool-record times. Her time in the 100 back was 59.71 seconds, and she posted a time of 2:09.21 in the 200 back. She earned a national title in the 100 back at the 2011 NCAA Division III championships. Her time in the 200 IM was 2:12.38 as just .31 seconds separated the top three finishers.

Rosenbaum, Gibbons, Gabrielle Goione '12 and Joan Burton '13 finished third in the 200 medley relay with a time of 1:52.55. McKenna Kelly '15 took third place in the 1,000 free in 11:04.94, and Sarah Larson '15 finished sixth out of 16 swimmers in the 50 free with a time of 25.55 seconds.

In diving, Diane Paverman '13 took first place in the 1-meter springboard with a score of 222.10 points. Paverman was third in the 3-meter board with 210.75 points.

Hamilton is off until Wesleyan University's Cardinal Invitational on Saturday and Sunday, Dec. 3 and 4.