Women's swimming & diving defeats Rensselaer
---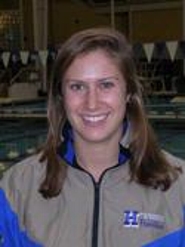 Whitney Rosenbaum '10 and Megan Gibbons '12 each finished first in two events for Hamilton College as the Continentals defeated Rensselaer 127-112 in a dual meet at Hamilton's Bristol Pool on Feb. 6.
Rosenbaum took first in the 200-yard freestyle with a time of 2 minutes, 1.21 seconds. In the 200 butterfly, a time of 2:11.17 secured her victory. Gibbons claimed first place in the 50 free in 24.89 seconds, and in the 100 free with a time of 54.54 seconds.
Liz Bucceri '11 earned a win for Hamilton in the 400 individual medley with a time of 4:51.21. Bucceri added a runner-up finish in the 500 free, touching the wall in 5:25.72 just .12 seconds behind the leader. Lizzy Buhl '12 won the 200 backstroke with a time of 2:19.20.
Bucceri, Buhl, Ellie Fausold '13 and Jeannie Folan '12 made up the foursome that took first place in the 400 free relay. They clocked a time of 3:50.85 for the win.
Diane Paverman '13 took first place in the 1-meter springboard and second in the 3-meter, earning 250.79 and 226.95 points, respectively.
The Continentals next compete in the three-day NESCAC championships, which will start on Friday, Feb. 19, at Middlebury College.