Women's swimming & diving defeats Union
---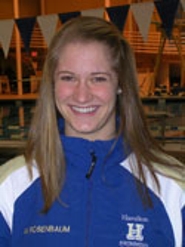 Maggie Rosenbaum '14 broke her own team record in the 100-yard backstroke, and Hamilton College edged Union College in a dual meet at Hamilton's Bristol Pool on Jan. 29.

Rosenbaum captured first place in the 100 back with a time of 58.69 seconds, which met an NCAA Division III championship provisional qualifying mark. Her old record in the event was 58.91 seconds. She won the event by more than five seconds. She also took second place in the 200 freestyle with a time of 1:59.29.

Megan Gibbons '12 finished first in the 50 free (24.56 seconds) and the 500 free (5:19.27). Gibbons, Rosenbaum, Liz Bucceri '11 and Joan Burton '13 led the Continentals to first place in the 200 medley relay with a time of 1:51.50. The quartet finished more than five seconds ahead of Union's top relay.

Diane Paverman '13 swept the diving events. Paverman topped the field in the 1-meter springboard with 252.97 points, and was first in the 3-meter board with 238.95 points. Both totals were season highs.

Lizzy Buhl '12 won a close race in the 1,000 free with a time of 11:03.74. Bucceri finished just .03 seconds behind the winner in the 200 individual medley with a time of 2:15.68. Burton was runner-up in the 100 butterfly in 1:01.45.

Hamilton won the meet by a score of 125-114. It was the final home meet of the season, and six seniors were honored prior to the start of the meet: Bucceri, Kerry Coughlin '11, Holly Donaldson '11, Leigh Ercole '11, Kylie Fraser '11 and Kate Rack '11.

The Continentals travel to Rensselaer on Saturday, Feb. 5, for their final dual meet of 2010-11.