Women's swimming & diving defeats Union
---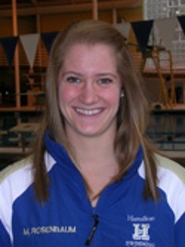 Hamilton College swimmers and divers finished first in 10 events as the Continentals cruised to a dual meet win at Union College in Schenectady, N.Y., on Jan. 28.

Results

Hamilton racked up 168 points to Union's 118. The Continentals host Rensselaer for Senior Day on Saturday, Feb. 4.

Maggie Rosenbaum '14 captured first place in three individual events and led off the winning 200-yard medley relay. Rosenbaum's times were 59.52 seconds in the 100 backstroke, 2:10.97 in the 200 back and 1:00.00 in the 100 butterfly. She teamed up with Gabrielle Goione '12, Joanie Burton '13 and Allie Reeder '14 to post a time of 1:53.80 in the 200 medley relay.

Megan Gibbons '12 claimed first place in the 200 freestyle (1:58.20) and the 100 free (53.97 seconds), and was second in the 50 free (25.02 seconds). Gibbons anchored the meet's fastest 200 free relay that finished with a time of 1:41.19. Reeder, Sarah Larson '15 and Burton rounded out the relay.

Diane Paverman '13 swept the two springboard diving events. Paverman boasted 290.17 points in the 1-meter board and 268.80 points in the 3-meter.

McKenna Kelly '15 ended up first in the 1,000 free with a time of 10:50.27. Kelly was runner-up in the 200 free (2:00.23) and the 500 free (5:20.95).

Goione took first place in the 100 breaststroke (1:11.97) and second place in the 200 breast (2:36.73). She finished just .12 seconds behind the winner in the 200 breast.

Sarah Dempsey '14 edged a Union swimmer by .01 second to post the fastest time in the 400 individual medley (4:48.15). Dempsey was second in the 200 fly with a time of 2:16.62.

Lizzy Buhl '12 recorded a pair of runner-up finishes. Buhl was second in the 1,000 free (11:04.20) and the 200 back (2:13.38). Reeder ended up third in the 200 free with a time of 2:01.22.