Women's swimming & diving edged by Union
---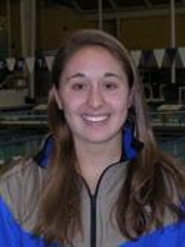 Liz Bucceri '11 recorded two victories for Hamilton College, but the Continentals were edged by host Union College in a dual meet in Schenectady, N.Y., on Jan. 30.
The final team score was 127-115. Bucceri captured first place in the 500-yard freestyle with a time of 5:24.10. She also touched the wall first in the 200 individual medley, recording a time of 2:16.30.
In the 100 free, Megan Gibbons '12 earned another victory for Hamilton with a time of 55.27 seconds. Gibbons also finished a close third in the 50 free, posting a time of 25.49 seconds, which was just .28 seconds behind the winner. Kate Rack '11 took first place in the 100 breaststroke, finishing in 1:10.38.
Whitney Rosenbaum '10 captured first place in the 100 butterfly with a time of 1:00.42. Rosenbaum was runner-up in the 200 free with a time of 2:00.78.
In diving, Diane Paverman '13 finished first in the 1-meter springboard with 252.22 points. Paverman took second place in the 3-meter board earning 218.33 points.
The Continentals next compete on Saturday, Feb. 6, when they host Rensselaer for a dual meet in Bristol Pool.