Women's swimming & diving edges Le Moyne
---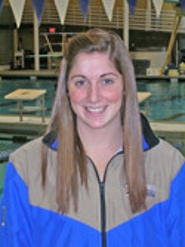 Megan Gibbons '12 dominated the sprint freestyle events and Hamilton College edged Le Moyne College in a dual meet held at Bristol Pool on Feb. 6.
The final score was 154-146. Le Moyne is an NCAA Division II program in women's swimming and diving.
Gibbons finished first in the 50-yard free with a time of 25.04 seconds. She won the event by more than a second. She captured the 100 free with a time of 55.28 seconds.
Maura Donovan '09 took first place in the 500 free with a time of 5:23.79 in her last home meet. Liz Bucceri '11 was runner-up to Donovan in 5:25.80. Donovan was second in the 1,000 free with a time of 11:08.34 and Bucceri ended up second in the 200 free in 2:00.86.
Whitney Rosenbaum '10 finished first in the 50 butterfly with a time of 28.02 seconds and was second in the 100 fly (1:00.35). Anna Chelius '11 was a double winner in the diving events. Chelius scored 214.30 points in the 1-meter springboard and posted 220.75 points in the 3-meter board.