Women's swimming & diving falls at Middlebury
---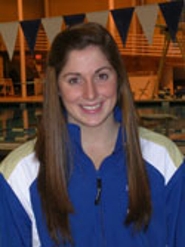 Megan Gibbons '12 finished first in a pair of freestyle events in Hamilton College's dual meet loss at Middlebury College on Jan. 14.

Hamilton swimmers and divers took first place in four individual events. Middlebury defeated the Continentals by a score of 164 points to 78. Hamilton hosts Amherst College at Bristol Pool on Saturday, Jan. 21.

Gibbons won the 100-yard free in 54.34 seconds and the 200 free in 1:58.51. Maggie Rosenbaum '14 claimed first place in the 200 backstroke with a time of 2:07.96 and ended up second in the 200 individual medley in 2:13.80.

Diane Paverman '13 was first in the 1-meter springboard diving event with 272.40 points. McKenna Kelly '15 finished second in the 1,000 free with a time of 10:58.10 and third in the 500 free in 5:21.76.