Women's swimming & diving falls to Wesleyan
---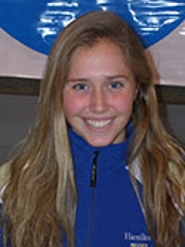 McKenna Kelly '15 took first place in a pair of distance freestyle events in Hamilton College's dual meet loss against Wesleyan University at the Wesleyan Natatorium on Jan. 7.

The Cardinals defeated the Continentals by the score of 176-122. Hamilton heads down to Islamorada, Fla., and will compete against Colby-Sawyer College and Colorado College at Founders Park on Friday, Jan. 11, at 5 p.m.

Kelly won the 500-yard free in 5:28.52 and the 1,000 free with a time of 11:03.25. Maggie Rosenbaum '14 placed first in the 100 backstroke in 58.20 seconds and the 200 back in 2:07.99. Rosenbaum, a two-time national champion in the 100 back, met the NCAA provisional qualifying time for the event.

Diane Paverman '13 claimed first place in both diving events with 225.82 points on the 1-meter springboard and 231.82 points on the 3-meter springboard.

Sarah Hooper '16 finished second in the 50 free with a time of 25.70 seconds, which was only 0.15 seconds behind the winner. Joanie Burton '13 swam to second place in the 100 butterfly (1:02.38) and Lauren Halladay '16 ended up second in the 200 individual medley with a time of 2:20.01.