Women's swimming & diving hosts Amherst College
---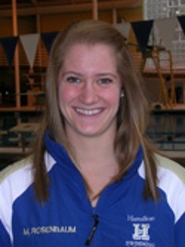 Hamilton College swimmers and divers finished first in seven events as the Continentals hosted Amherst College for a dual meet at Bristol Pool on Jan. 21.

Results

Maggie Rosenbaum '14 took the top spot in the 50- and 100-yard backstroke, and the 200 individual medley. Rosenbaum won the 100 back by just .02 seconds with a time of 58.26 seconds in one of the top two races of the day. She enjoyed much easier victories in the 50 back (27.62 seconds) and the 200 IM (2:13.50).

Megan Gibbons '12 captured first place in three freestyle events. Gibbons won the 50 free in 24.93 seconds, the 100 free in 53.49 seconds and the 200 free in 1:57.03.

McKenna Kelly '15 was behind Gibbons in third place in the 200 free with a time of 2:00.15. Kelly added a runner-up finish in the 500 free (5:20.42). The 500 proved to be the other outstanding race of the afternoon, as Kelly ended up just .04 seconds behind the winner from Amherst.

Joanie Burton '13 finished second in the 100 butterfly with a time of 1:02.50. Burton joined Rosenbaum, Gibbons and Gabrielle Goione '12 on the 200 medley relay as Hamilton ended up .15 seconds out of first place with a time of 1:51.44.

Diane Paverman '13 claimed first place in the 1-meter springboard diving event with 269.62 points. Paverman was second in the 3-meter board with 241.12 points.

Amherst defeated the Continentals by the score of 177 points to 123. Hamilton travels to Union College for another dual meet on Saturday, Jan. 21.