Women's swimming & diving ninth after day one of NESCAC championships
---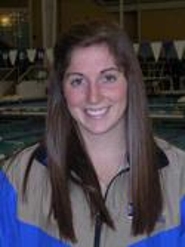 Hamilton College's Megan Gibbons '12 finished first in the championship finals of the 50-yard freestyle on the first day of the 2010 New England Small College Athletic Conference championships at Middlebury College's Natatorium on Feb. 19.
Gibbons established a team record in the 50 free with a time of 23.97 seconds in the preliminary heats. The previous school record of 24.20 seconds was set in 1997 by Wendy Marrs '97. Gibbons finished in 24.11 seconds in the championship final. She made a provisional cut for the NCAA Division III championships. Her win is the first by a Hamilton women's swimmer at the NESCAC meet since Brittany Achin '05 took first place in a pair of breaststroke events in 2004.

In the 50 butterfly, Whitney Rosenbaum '10 claimed seventh place in the championship final with a time of 26.82 seconds. Rosenbaum touched the wall in 26.70 seconds in the prelims.

In the 50 breaststroke, Kate Rack '11 finished fourth in the consolation finals and 12th overall with a time of 32.09 seconds. Rack clocked a time of 31.74 seconds in the prelims.

Liz Bucceri '11 took eighth place in the consolation finals of the 200 individual medley, and 16th place overall with a time of 2:15.95. Bucceri recorded a prelim time of 2:12.24.

In the 1-meter springboard diving event, Diane Paverman '13 finished in fourth place with 400.30 points. Paverman's total eclipsed the previous team record of 389.70 points, which had been held by Cady Kashner '03 since 2000.
The Continentals are in ninth place with 245 team points after the first day of the three-day event. The teams will continue to compete on Saturday, Feb. 20, and Sunday, Feb. 21.