Women's swimming & diving places 2nd at Wesleyan meet
---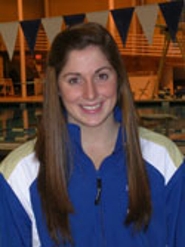 Hamilton College placed second at the five-team Wesleyan University Cardinal Invitational, which was held at Wesleyan's Natatorium on Dec. 4 and 5.

Hamilton finished with 1,138 points, and meet winner Wesleyan collected 1,282.5. Trinity College was third, Worcester Polytechnic Institute was fourth and Clark University was fifth.

The Continentals finished first in a dozen events, including two relays. Megan Gibbons '12 and Maggie Rosenbaum '14 won five events apiece. Gibbons and Rosenbaum were also part of the winning relays.

Rosenbaum set a team and meet record in the 50-yard backstroke with a time of 27.60 seconds. The old program record of 28.43 seconds was held by Suzie Wilson '06 since 2006. Rosenbaum also set meet records in the 50 butterfly (26.64 seconds), 100 fly (59.08), 100 back (59.17) and 200 back (2:09.82), which she won by almost six seconds.

Gibbons set meet records for the 50 freestyle (24.46 seconds), 200 free (1:56.60) and 100 free (53.56). She also finished first in the 50 breaststroke (32.18) and 100 breast (1:09.86). She ended up second in the 100 individual medley with a time of 1:02.76.

Rosenbaum and Gibbons helped lead the 200 and 400 medley relays to victory. Liz Bucceri '11 and Joan Burton '13 joined them on the relays. The time in the 200 was 1:52.26 and the time in the 400 was 4:07.58. Both times were meet records.

Bucceri was runner-up in the 400 IM (4:51.07) and the 100 breast (1:12.29). Allie Reeder '14 took third in the 50 back (29.81), and Sarah Dempsey '14 was third in the 200 fly (2:20.87).

In diving, Diane Paverman '13 was second in the 1-meter springboard with 219.50 points. Paverman finished third in the 3-meter at 204.50 points.

Hamilton is off until a dual meet with the University of Rochester in Florida on Jan. 5.