Women's swimming & diving places 9th at NESCAC meet
---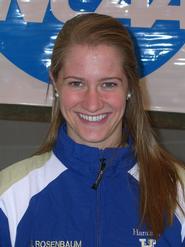 Hamilton College's Maggie Rosenbaum '14 set pool and team records in two events on the third and final day of the 2013 NESCAC Championship at Bowdoin College's Leroy Greason Pool on Feb. 17.

RESULTS

Rosenbaum finished first in the 200-yard backstroke with a time of 1:59.13. Her old program record of 1:59.26 was established last year. She also qualified for the NCAA Division III championships in March for the event. Rosenbuam swept the three backstroke events at the NESCAC meet for the third straight year.

Rosenbaum led off a 200 medley relay time trial with a time of 25.75 seconds in the 50 back. She had set the pool and team record in the event with a time of 25.80 seconds on Friday.

The relay's time of 1:46.05 was slightly better than the 1:46.74 clocking on Saturday night, and met a provisional qualifying standard for the NCAA meet. Rosenbaum was joined on the relay by Lauren Halladay '16, Joanie Burton '13 and Sarah Hooper '16.

McKenna Kelly '15 finished 11th in the 1,650 freestyle with a time of 17:46.10. Kelly's time is second on Hamilton's top times list.

Halladay ended up in eighth place in the consolation final (16th overall) of the 200 breaststroke. Her time of 2:28.36 in the morning's preliminary heats is good for third place on the team's top times list.

Hooper finished sixth in the preconsolation final (22nd overall) of the 100 free. Her time of 54.10 seconds in prelims landed in sixth place on Hamilton's top times list.

Sarah Izzo '15 took fifth place in the preconsolation final (21st overall) of the 200 back with a time of 2:12.13. Diane Paverman '13 captured fourth place in 3-meter springboard diving with 411.85 points.

The Continentals placed ninth with 594 team points. Amherst College led the 11-team field with 1,972.5 points. Hamilton is scheduled to host a Last Chance Invitational on Saturday, Feb. 23.