Women's swimming & diving places second at Invitational
---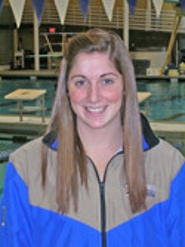 Megan Gibbons '12 finished first in five individual events to help lead Hamilton College to second place out of six teams at Wesleyan University's two-day Cardinal Invitational on Dec. 6 and 7.
The Continentals finished with 1,008 points, behind host Wesleyan's 1,205.5. Hamilton bested Clark University, Trinity College, Worcester Polytechnic Institute and Cabrini College for the runner-up slot.
"It's a tremendous amount of swimming in a small period of time," head coach T.J. Davis said. "The ability for our kids to continue to come back time and time again is amazing. It was a very challenging weekend considering how many events they swam over the course of a day and a half. We were neck and neck with Wesleyan the whole time. We pushed them, they pushed us. It was a very competitive atmosphere."
Gibbons took first place in the 50-yard breaststroke (32.80 seconds), 50 freestyle (24.95), 100 breast (1:11.20), 100 individual medley (1:04.78) and 100 free (54.97). Gibbons also anchored the winning 400 medley relay, which consisted of Kylie Fraser '11, Eve Stevens '09 and Whitney Rosenbaum '10. Their time was 4:10.11.
"Megan Gibbons has been absolutely amazing," Davis said. "I was so thrilled with all the different events that she was able to be extraordinarily competitive in. Whitney Rosenbaum also did well and had a particularly great 200 fly. We were particularly tough swimming in the 200 events. A lot of our girls doubled up with wins in those events. Anytime kids are doing two 200-stroke events in the same session, that's pretty amazing."
Rosenbaum championed the 200 butterfly in 2:14.05. Liz Bucceri '11 touched second in the 200 IM in 2:17.11 and was third in the 200 free (2:03.67). Gibbons touched in at fourth place in the 200 free (2:04.02). Stevens took second in the 200 breast(2:35.37), while Stefanie Capizzi '09 ended up fifth (2:42.57). Fraser took second in the 200 back in 2:20.73.
The Continentals also boasted a first-place finish in the 500 free by Bucceri, who touched in at 5:21.76. Bucceri took fourth in the 400 IM (4:53.63) and was second to Gibbons in the 100 IM (1:04.84). Gabrielle Goione '12 was close behind in fourth place in the 100 IM (1:05.51). The Continentals also dominated the 100 breaststroke. Stevens was third behind champion Gibbons with a time of 1:11.51, and Goione touched in at fifth (1:13.14).
Rosenbaum placed third in the 100 fly (1:01.73) and the 50 fly (28.06). Stevens took fifth in the 50 breast with a time of 33.36 seconds. Fraser took third in the 50 back at 30.63 seconds and fourth in the 100 back (1:05.98). Deanna Edwards '09 captured fourth place in the 1,650 free at 19:20.27.
Diver Anna Chelius '11 took third in the 3-meter springboard with 218.20 points and was fourth in the 1-meter with 206.75 points.
The swimming and diving programs are off until Saturday, Jan. 3, 2009, when the Continentals travel to Amherst College for a dual meet at 2 p.m.