Women's swimming & diving rips Rensselaer
---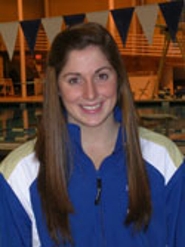 Megan Gibbons '12 finished first in two events to lead Hamilton College to a dual meet victory at Rensselaer on Feb. 5.

Hamilton (4-4 overall) won by a score of 132-99. The Continentals are off until the New England Small College Athletic Conference championship held at Williams College from Friday, Feb. 18, to Sunday, Feb. 20.

Gibbons won the 200-yard freestyle (1:58.40) and the 100 free (54.03 seconds). Hamilton finished first in five other events.

Sarah Dempsey '14 was first in the 400 individual medley as she shattered her personal-best time in 4:47.76. Maggie Rosenbaum '14 took first place in the 200 backstroke with a time of 2:09.57, and Lizzy Buhl '12 was first in the 500 free in 5:28.70.

Rosenbaum, Liz Bucceri '11, Joan Burton '13 and Allie Reeder '14 led the Continentals to first place in the 400 medley relay with a time of 4:08.43. Gabrielle Goione '12 was runner-up in the 50 free in 26.15 seconds.

Diane Paverman '13 captured first place in 1-meter springboard diving with 253.65 points, and was second in the 3-meter board with 244.80.