Women's swimming & diving takes second place at Cardinal Invitational
---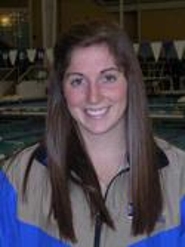 Megan Gibbons '12 helped lead Hamilton College to second place in Wesleyan University's five-team Cardinal Invitational, which was held on Dec. 5 and 6.
Hamilton earned a total of 970 points and finished ahead of Clark University, Worcester Polytechnic Institute and Trinity College. Wesleyan finished in first place with 1,291 points.
Gibbons earned two of the team's five first place finishes and was runner-up three times. She won the 50-yard freestyle with a time of 24.87 seconds, and captured the 100 breaststroke in 1:09.89. She took second in the 50 breast in 32.41, the 200 free in 1:59.64, and the 100 individual medley with a time of 1:03.47. Gibbons finished a close third in the 100 free with a time of 54.71 seconds.
Kate Rack '11 earned her first collegiate win with a time of 2:38.87 in the 200 breast. Liz Bucceri '11 posted another victory for the Continentals in the 400 IM, recording a time of 4:53.45. Bucceri also finished third in the 200 IM in 2:19.72.
Whitney Rosenbaum '10 won the 200 butterfly by almost five seconds with a time of 2:11.66. In addition to her win, Rosenbaum had two second place finishes. She recorded a time of 27.79 seconds in the 50 fly, and finished in 1:00.85 in the 100 fly. Rosenbaum also took third place in the 500 free, clocking a time of 5:27.93.
Emma McCarthy '10, who is regularly a sprinter, had a strong finish in the 1,650 free as she ended up sixth with a time of 20:22.85. Hamilton also took second place in the 200 free relay. The foursome finished with a time of 1:43.62, and included Bucceri, Megan Schlosser '13, McCarthy and Gibbons.
Diver Diane Paverman '13 made a provisional cut for the NCAA Division III championships in the 1-meter spring board and the 3-meter springboard with 395.55 and 422.90 points, respectively. Paverman took second place in both events.

The Continentals are off until Jan. 16, when they travel to Middlebury College for a dual meet at 2 p.m.