Women's swimming & diving wins at St. Lawrence
---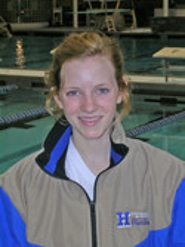 Hamilton College recorded seven event victories, including a 1-2 showing in both springboard diving events, as the visiting Continentals picked up a 142-97 dual meet win at St. Lawrence University on Jan. 24.
Anna Chelius '11 and Beth Beaury '09 finished first and second, respectively, in the 1-meter and 3-meter boards. Chelius had 212.15 points in the 1-meter and 238.05 in the 3-meter. Beaury racked up 192.45 and 185.60 points in her first meet this season.
Kylie Fraser '11 recorded victories in the 100-yard backstroke (1:04.33) and the 200 freestyle (2:05.02). Hamilton swimmers filled the top three spots in the 500 free, led by Liz Bucceri '11, who touched the wall at 5:32.50. Maura Donovan '09 swam to second place (5:34.99) and Deanna Edwards '09 rounded out the top three with a time of 5:38.20.
Megan Gibbons '12 posted the other event victory as she touched first in the 100 free at 56.09 seconds. Hamilton edged St. Lawrence in the 200 free relay with a time of 1:48.25 at the end of the meet. Courtney Neuber '11, Gabrielle Goione '12, Jeannie Folan '12 and Bucceri were the relay members.
Hamilton returns to action on Saturday, Jan. 31, at Bristol Pool against Union for Senior Day.