Women's swimming & diving wins Hamilton Invitational
---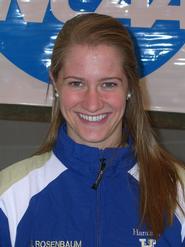 Hamilton College's Maggie Rosenbaum '14 finished first in six events and the Continentals captured the team title in the 2012 Hamilton Invitational, which was held at Bristol Pool on Dec. 1 and 2.

The Continentals racked up 1,388.5 points to claim the victory in a competitive meet. Worcester Polytechnic Institute was runner-up with 1,279.5 points and Trinity College finished third with 1,235.

Rosenbaum, a two-time national champion and three-time All-American, was the top finisher in all three backstroke events, two individual medleys and the 100-yard butterfly. Her time of 58.10 seconds in the 100 fly was just .02 seconds off the team record of 58.08 held by her older sister, Whitney '10.

Maggie Rosenbaum topped the field in the 50 back (28.34 seconds), the 200 IM (2:12.50), the 100 back (59.73 seconds), the 100 IM (1:02.36) and the 200 back (2:09.14). She was also part of four winning relays.

McKenna Kelly '15 swept the distance freestyle events. Kelly finished first in the 500 free (5:17.73), the 200 free (2:01.56) and the 1,650 free (18:26.41).

Sarah Hooper '16 tied for first place in the 50 free with a time of 25.95 seconds, and ended up third in the 100 free in 57.17 seconds. Lauren Halladay '16 took second place in all three breaststroke events. Halladay's time in the 50 breast was 33.25 seconds, and she finished the 100 in 1:11.97 and the 200 in 2:38.54.

Diane Paverman '13 secured second place in both springboard diving events, and broke her own team record in the 1-meter with a total of 429.45 points. Paverman met a provisional qualifying score to compete at the NCAA regional diving meet, which will be held on March 1 and 2. She racked up 434.50 points in the 3-meter.

In the swim events, Joanie Burton '13 was fourth in the 50 fly with a time of 28.69 seconds, and Allie Reeder '14 finished fourth in the 50 free in 26.48 seconds.

Hamilton captured first place in the 200 and 800 free relays, and the 200 and 400 medley relays. Hooper, Rosenbaum, Halladay and Reeder posted a time of 1:43.37 in the 200 free. The lineup of Rosenbaum, Halladay, Burton and Hooper finished first in the 200 medley with a time of 1:53.57. Reeder replaced Hooper for the 400 medley, and the Continentals won again in 4:08.41. Rosenbaum, Reeder, Burton and Kelly finished with a time of 8:13.24 in the 800 free.

Hamilton is off for finals and winter break until Jan. 7, when the Continentals travel to Wesleyan University for a dual meet.