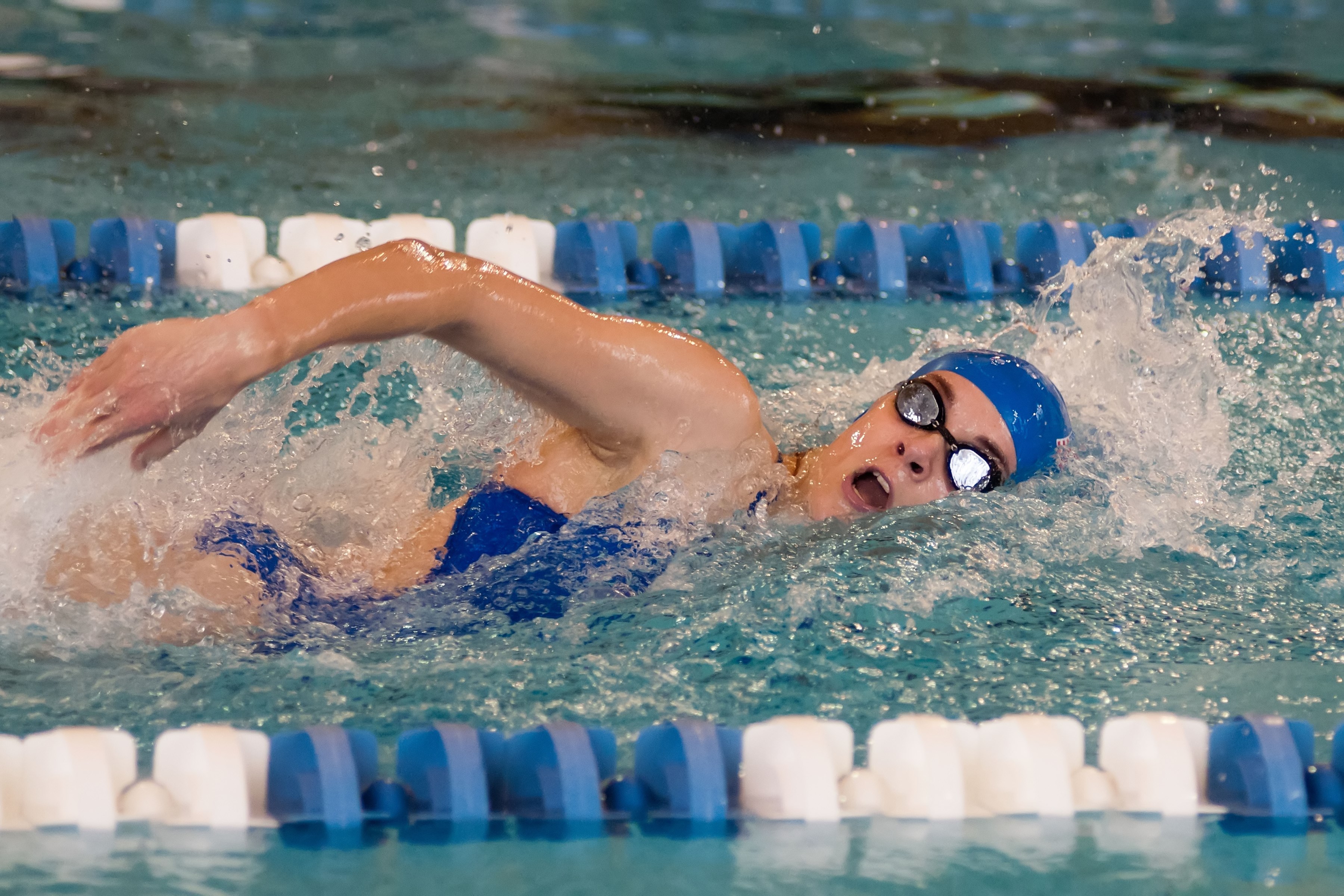 Hamilton College breezed to the team title in the 2015 Hamilton Swimming and Diving Invitational, which was held at Bristol Pool on Friday and Saturday.

1st session results | 2nd session | 3rd session

The Continentals' 980 team points nearly doubled the total of 536 for runner-up SUNY Cortland. Eight women's teams competed in the two-day event.

Sarah Hooper '16 led the way for Hamilton with a pair of individual victories and three more in relays. Hooper was the top finisher in the 50-yard freestyle with a time of 25.45 seconds and in the 100 free in 55.00 seconds. She anchored the winning 200 and 800 free relays and led off the 400 free relay.

Jessie Halladay '18, Hannah Mooney '17 and Lauren Klei '18 joined Hooper on the 200 and 800 free relays. It was Mooney, Olivia Shehan '18 and Klei on the 400 free relay, which set a meet record with a time of 3:42.72. The winning time for the 200 was 1:42.85, which matched the meet record. The Continentals posted a time of 8:10.43 in the 800.

Halladay touched the wall first in the 500 free with a time of 5:21.66 and Mooney was close behind in third place and a time of 5:23.79. Halladay was runner-up in the 200 free (2:00.84) less than a second behind Klei (2:00.27). Klei's time set another invitational record.

Mooney landed in fourth place in a 200 free dominated by Hamilton with a time of 2:01.74. Speaking of dominance, the Continentals swept the top three spots in the 100 free. In addition to Hooper's win, Klei took second place in 55.93 seconds and Mooney was next in 56.29 seconds. Klei ended up fifth in the 50 free with a time of 26.29 seconds.

In diving, Sarah Pickup '19 finished fifth in the 1-meter springboard with 196.15 points and in the 3-meter board with 216.30 points.

Three Hamilton swimmers landed in the top five in the 200 individual medley. Lauren King '16 was third with a time of 2:20.17, Irina Rojas '18 was fourth (2:22.21) and Erin Lewis '18 was fifth (2:22.70). King finished third again in the 400 IM in 4:57.87 and Rojas took fifth place in the 100 butterfly (1:03.05).

Madeleine Lepesant '19, who cracked the program's all-time Top 10 Times list in the 200 fly in her first collegiate meet two weeks ago, was runner-up in the event with a time of 2:13.61.

Emma Raynor '18 was victorious in the 100 backstroke with a time of 1:01.74. Raynor grabbed third place in the 200 back (2:15.66) and Anya Nugent '18 was runner-up in 2:15.10.

In the 100 breaststroke, Lauren Halladay '16 was runner-up with a time of 1:12.04 and Lewis was close behind in third place (1:13.16). Halladay added another runner-up finish in the 200 breast in 2:37.20 and Lewis was fifth (2:40.49).

Hamilton is off until a home dual meet against Wesleyan University on Jan. 3 at 1 p.m.