Women's swimming places 20th at NCAA championships
---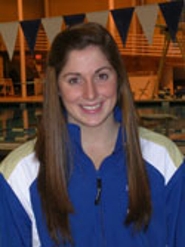 Hamilton College's Megan Gibbons '12 and Maggie Rosenbaum '14 earned honorable mention All-America awards on the final day of the 2011 NCAA Division III men's and women's swimming and diving championships at the University of Tennessee's Allan Jones Aquatic Center in Knoxville, Tenn., on March 26.

Gibbons tied for seventh place in the consolation finals (tie for 15th overall) of the 100-yard freestyle with a time of 51.74 seconds. She picked up her third honorable mention All-America award of these championships, and her fourth overall. Swimmers that compete and finish in the consolation finals are honorable mention All-Americans.

In the morning preliminary heats of the 100 free, Gibbons broke her own program record with a time of 51.43 seconds. Her old record, set in February, was 51.97 seconds.

Rosenbaum finished second in the consolation finals (10th overall) of the 200 backstroke with a time of 2:01.89. She became the first women's swimmer in school history to win a national title on March 25 when she finished first in the 100 back. She takes away one All-America award and two honorable mention All-America awards from her first NCAA championships.

Gibbons, Rosenbaum, Joan Burton '13 and Liz Bucceri '11 competed in the 400 free relay as well. The foursome set a team record in the prelims with a time of 3:31.64, but finished 19th and didn't advance to the evening finals. The old record, which was set in February, was 3:33.92.

Hamilton finished in 20th place in the women's team standings with 46.5 points. Emory University captured the team title with 614. A total of 54 teams recorded at least one point. The finish is the best for the Continentals since they were 18th in 2005.