Women's tennis competes at state championship
---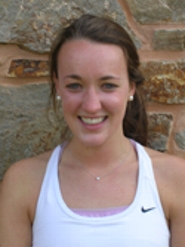 Hamilton College women's tennis players won seven of nine first-round singles and doubles matches at the 2013 New York State Division III Championship, which was held at Ithaca College from Oct. 11 to Oct. 13.

Results

All seven of Hamilton's first-round winners lost in the quarterfinals of their respective singles and doubles flights. A total of 14 teams competed in the tournament that featured six singles and three doubles flights.

Bella Schoning '16 defeated William Smith College's Hannah More 6-1, 3-6, 10-3 in first singles. Schoning and Winnie Tang '17 edged William Smith's Sydney Arsenault and Kelley Hartmann 8-6 in second doubles.

Sara Shaughnessy '14 cruised to a 6-1, 6-0 victory against Elmira College's Danielle Levine in third singles. Shaughnessy and Emily Chan '16 breezed to an 8-2 triumph against St. John Fisher College's Eileen Fleming and Olivia Rotondo in third doubles.

Rachel Friedman '15 rolled to a 6-1, 6-0 win in fourth singles against Alfred University's Elexandra Smith, and Liz Detwiler '15 posted a 6-3, 6-2 victory against the University of Rochester's Darby McCall in fifth singles. Mei Lin Pratt '16 rallied past Rochester's Mariana Flores Kim 4-6, 6-1, 10-3 in sixth singles.

The fall season is over for the Continentals, who pick things up again in March 2014.