Women's tennis competes in New York State Championships
---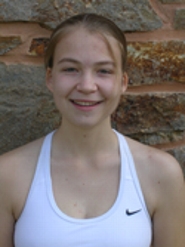 Hamilton College competed in the 2012 New York State Championships at Ithaca College on Oct. 12 and Oct. 13.

RESULTS

Hamilton last participated in this event in 2007. Players from 13 schools competed in the championships, and there were six singles and three doubles brackets.

Bella Schoning '16, Aislinn Shea '13 and Rachel Friedman '15 all breezed to first round wins in singles play. Schoning won 8-2 in the third flight bracket against her Ithaca opponent. Shea and Friedman defeated their opponents, 8-1, at fifth and sixth flight, respectively. Friedman is 4-1 in singles play this fall.

All three players lost in the quarterfinals. Schoning was able to win a set and take the third flight's second seed from New York University to a super-tiebreaker. She eventually lost the match, 1-6, 7-6 (11-9), 10-6. Schoning leads the team with five singles wins.

Alex Arenson '13, Mira Khanna '15 and Liz Detwiler '15 all lost close first round matches on Friday. Khanna dropped her match by a score of 8-5, and Arenson and Detwiler fell by identical 8-6 scores.

Meg Lee '14 and Melissa Mann '13 won 8-1 in the first round at third flight doubles against their Elmira College opponent. Lee and Mann fell 8-6 in the quarterfinals to the third seed from NYU. The loss was their first in five matches this fall.

Arenson and Khanna were edged 8-6 in first doubles against Nazareth College. Schoning and Detwiler lost 8-2 to their Vassar College opponent.

The Continentals have completed their fall season and will resume play in March 2013.