Women's tennis drops first dual match of 2011
---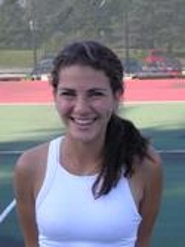 St. Lawrence University won two of the three singles matches that went to three sets, and the Saints pulled out a 6-3 victory against Hamilton College in non-conference action at Hamilton's Gray Tennis Courts on Sept. 16.

This was the first dual match of 2011-12 for both teams. Hamilton is off until the USTA/ITA Division III Northeast Regional championship at William Smith College. The three-day tournament starts on Sept. 24. St. Lawrence was ranked 16th in the Northeast Region by the ITA at the end of 2010-11.

Carrie Uhlein '15 triumphed in three sets (3-6, 6-0, 6-1) at fifth flight singles for the Continentals. Mira Khanna '15 was leading her first flight singles match 3-2 in the first set when her opponent retired from the match and handed the win to Khanna.

Melissa Mann '13 and Liz Detwiler '15 paired up for an 8-3 victory at third flight doubles. Detwiler posted a 2-1 record in doubles play at last weekend's Trinity College Invitational.