Women's tennis drops match to Colby
---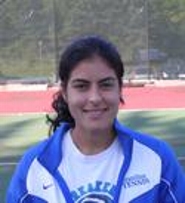 Hamilton College fell 6-3 to Colby College in a New England Small College Athletic Conference match at Hamilton's Gray Tennis Courts on April 10.
With the loss, the Continentals are 3-6 overall and 0-3 in NESCAC play. Colby improved to 7-4, 2-2 in the conference.
At first flight singles, Deb Barany '11 won her opening set 6-3 and lost the second 2-6, but rallied to win the third set super tie-breaker, 10-7. Vrinda Khanna '13 picked up a 6-1, 6-1 win at third flight singles. Laura Brantley '10 and Khanna teamed up to record an 8-5 victory at first flight doubles.
The Continentals host Tufts University for another NESCAC match on Sunday, April 11.