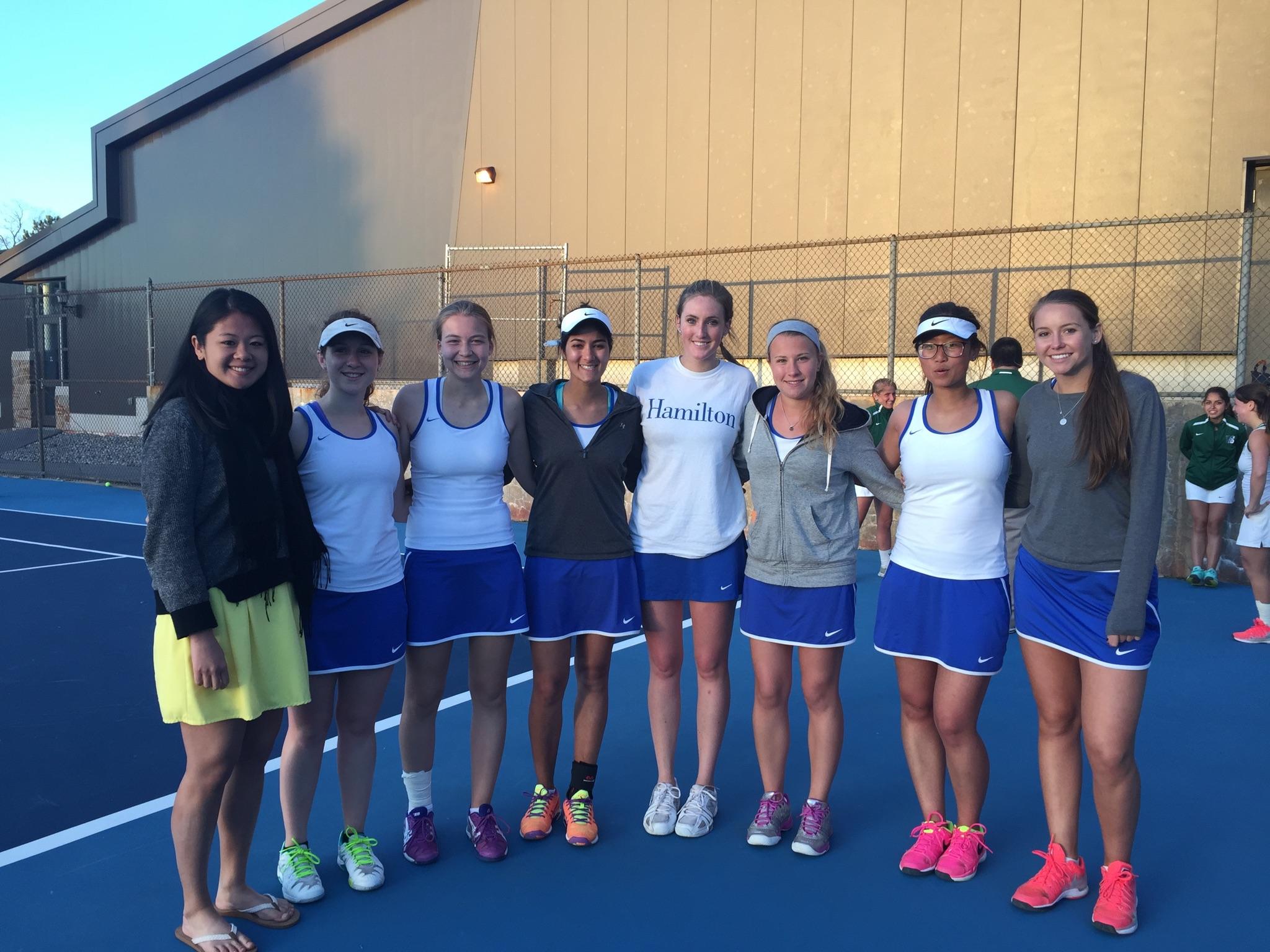 Hamilton College seniors accounted for five of the Continentals' seven team points in a 7-2 non-conference win against William Smith College at Hamilton's Gray Tennis Courts on Wednesday.

Results

The Continentals (13-9 overall) were playing their final match of 2014-15. William Smith wrapped up its season with a 9-9 record.

Mira Khanna '15 clinched the victory with a 6-4, 6-4 triumph at first flight singles. Khanna and Claire Keyte '17 breezed to an 8-2 win at third flight doubles. Khanna and Keyte improved their record to 15-6 and they own the program record for most wins in a season by a doubles team. Khanna ends her career tied for third place on the team's all-time list with 39 doubles victories.

Keyte cruised to a 6-3, 6-1 win at fifth flight singles and ended up with a record of 15-7. Winnie Tang '17 outlasted her second flight singles opponent in three sets, 6-2, 4-6, 10-1. Tang was 12-7 in singles play this season, including 9-6 at second flight. Hamilton posted two wins in singles matches that went to three sets against the Herons.

Liz Detwiler '15 and Rachel Friedman '15 edged their opponents 9-7 at first flight doubles. Detwiler's doubles win was the 35th of her collegiate career, which puts her in a tie for seventh place on the program's all-time list.

Friedman was a 6-2, 6-3 winner at sixth flight singles and she led the Continentals with a 16-5 record this season. Friedman's 47 career singles victories leave her in third place on the team's all-time list.

Detwiler pulled out a 6-3, 2-6, 6-2 win at fourth flight singles and improved to 10-6 this season. She nearly doubled her career singles victory total in 2014-15 as she ended up with 21.