Women's tennis falls to No. 17 Tufts
---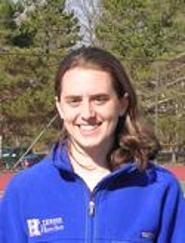 Nationally ranked No. 17 Tufts University defeated Hamilton College 8-1 in a New England Small College Athletic Conference match at Hamilton's Gray Tennis Courts on April 11.
Tufts (9-3, 5-0 NESCAC) remained unbeaten in the conference. Hamilton's record is 3-7 overall and 0-4 in NESCAC play. At third flight doubles, the team of Deb Barany '11 and Amelia Mattern '12 defeated their opponents in a close match, 9-8 (7-5). Barany and Mattern improved their doubles record to 3-7.
The Continentals return to action on Saturday, April 17, when they travel to play another NESCAC match at Amherst College.