Women's tennis rolls to victory against Union
---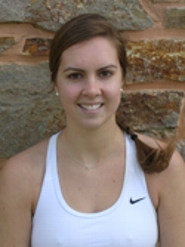 Hamilton College lost just one game in doubles action and the Continentals cruised to a 9-0 non-conference win against Union College at Hamilton's Gray Tennis Courts on April 22.

Aislinn Shea '13 and Melissa Mann '13 posted victories in singles and doubles play in their final home match for the Continentals. Shea was a 6-2, 6-2 winner at third flight singles and Mann recorded a 6-4, 6-3 triumph at fourth singles. The two were paired together at second flight doubles and they breezed to an 8-0 win.

Emily Chan '16 was the other double winner for Hamilton. Chan didn't lose a game at sixth singles and teamed up with Rachel Friedman '15 for an 8-0 victory at third flight doubles.

Bella Schoning '16 prevailed 6-1, 6-2 at first flight singles for her team-best 16th win. Carrie Uhlein '15 boasted a 6-4, 6-2 triumph at second flight singles and Sara Shaughnessy '14 blanked her opponent 6-0, 6-0 at fifth singles. Liz Detwiler '15 and Meg Lee '14 were 8-1 winners at first flight doubles.

The Continentals (9-9 overall) ended their losing skid at eight matches, which came on the heels of an eight-match win streak. Union (4-7) dropped its sixth straight match.

Hamilton travels to Connecticut College for a NESCAC match and the Continentals' regular season finale on Saturday, April 27.